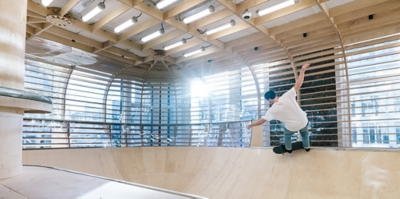 The Bowl at Selfridges London gives you the chance to skate in the windows of Selfridges, high above Oxford Street. Led by some of the leading skaters in the UK, you'll be able to get tips from the pros. From 1-2-1 lessons to open skate sessions for experienced skaters, there's something for every level. What's more, we can provide boards, padding and helmets for you to use on the day.
About the team
We have collaborated with leading skaters to make sure you have the best guidance from those in the know.
Ross McGouran
Former UK champion and pro skater. Ross is from London and has been in the game for over 20 years. Widely known for representing some of the biggest brands in the industry and with over 10 years' experience teaching skateboarding to youngsters.
Bryce Campbell
Originally from New-Zealand, Bryce Campbell has been a figurehead in the London skate scene since arriving on our shores many moons ago. He's been involved in numerous projects and movements in the city and responsible for bringing together the skate community, creating a hub in East London through his skater-owned, skater-run shop, Parlour.
Awadh Mohamed
Londoner Awadh has been skating and teaching for over 10 years, earning him numerous recognitions and endorsements from some of the biggest brands in the industry.

Husayn Smart
Long-time skater Husayn Smart from Scotland. Well known in the London skate community, Husayn has been running skateparks and teaching in the capital for a decade.
Sam Bruce
Londoner Sam has been holding it down for the female skaters in the city for over 20 years. Well known for hosting the girls' night at baysixty6 skatepark and teaching those new to the scene.