Can I get a refill?
Selfridges launches public water fountain to help tackle plastic pollution
In a bid to make drinking water more accessible and turn the tide on plastic pollution in our oceans, we've unveiled our first public water fountain outside our brand spanking new entrance on Duke Street at Selfridges London.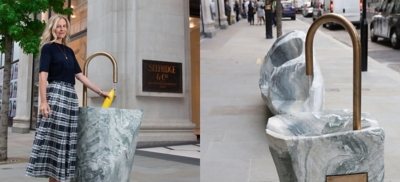 The fountain, which is crafted from exquisite green marble and provides regular filtered tap water, has been unveiled in time for World Oceans Day on Friday 8 June.

Alannah Weston, Deputy Chairman of Selfridges Group, said: "We have supported the #Oneless campaign since 2016, which has now seen the London Mayor promise to improve access to drinking water across London. Plastic poses a huge threat to our oceans and one that will continue until we all make bigger commitments to saving our oceans. We hope our civic water fountain will encourage customers and businesses alike to go #oneless."
If you have a reusable water vessel (we salute you!), then don't forget to refill it at the most Instagrammable water fountain in town next time you're at Selfridges. If you don't have one yet, there's no better time to take your pick from our favourites below. Plus, stay tuned for our exclusive refillable water bottle – in Pantone 109 yellow, of course ­– launching at Selfridges soon.
Put an end to plastic water bottles
- Adults in the UK buy 7.7 billion single-use plastic water bottles each year – that's a whopping 150 per person
- 8 million tonnes of plastic enter the ocean each year, and by 2050, plastic in the ocean could outweigh fish
- In 2015, we removed all single-use plastic water bottles from our stores and offices
- In 2016, we removed microbeads from all beauty products
- In 2017, we removed all plastic straws from our foodhalls and restaurants
- In 2018, we removed all single-use carbonated drinks bottles from our stores