Selfridges Loves:
the five most radical fashion shows of our time
Take a seat on the front row as we share our favourite first-hand accounts of the most radical fashion shows of all time.
"A true fashion moment is like falling in love at first sight – or being hit with a bolt of lightning. Until it happens, you don't know the force of it." – Camilla Morton, fashion editor and author of How to Walk in High Heels
Rick Owens spring/summer 2014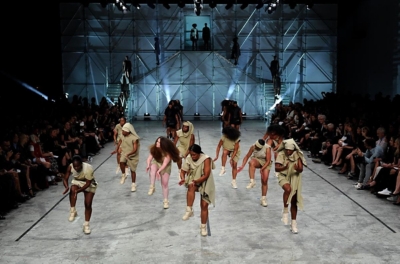 As remembered by:
Michèle Lamy, designer and radical creative
"For me, the most radical fashion show must be the Rick Owens Steppers Vicious collection for spring/summer 2014. No words required really – just find a video of the steppers who performed with such energy and emotion and you'll understand why I chose this show. This is fashion at its most affecting."
Louis Vuitton autumn/winter 2012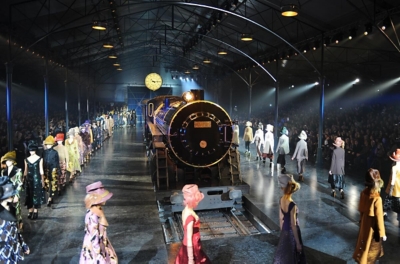 As remembered by:
Sebastian Manes, Selfridges Buying & Merchandising Director
"For me, this is one of the most memorable shows ever. The set was a train station, created by the Louis Vuitton team in a courtyard of The Louvre. It felt like being on a movie set, transporting you back to the Sixties – not just with the amazing designs from Marc Jacobs (the designer at the time) but the whole experience. As the show began and the music started, there was smoke everywhere and, suddenly, a real vintage train arrived at the station. It was totally totally surreal."
Alexander McQueen autumn/winter 1995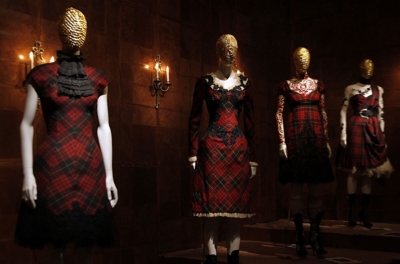 The collection featured in the V&A's 2015 Alexander McQueen exhibition Savage Beauty
As remembered by:
Hywel Davies, Fashion Programme Director at Central Saint Martins
"The first fashion show I saw was Alexander McQueen's autumn/winter 1995 Highland Rape collection. I had just arrived in London to study at Central Saint Martins and a group of us disguised ourselves as photographers' assistants to secure the best position in the house – the photographer's pit. McQueen was already a hero to us. He was anti-establishment, young, brave and brutally talented. However, the show, to me, as a novice, was shocking.
Fashion has the power to engage and can be far more than just about clothes.

Models were battered and bruised and clothes fell off their frames. Blue Farrier, a fellow Saint Martins student, was modelled half-naked. I couldn't believe it! This was pure theatre, and although it was actually inspired by the 'ethnic cleansing' by British Forces in the Scottish Highlands, I will never forget the unease I felt at that show. There was something beautifully sad and aggressive watching this performance and commitment to an idea."
Temperley London autumn/winter 2018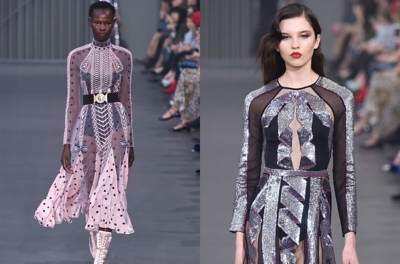 As remembered by:
Charlotte Tilbury, make-up artist and founder
"Alice Temperley is an amazing friend of mine and to create such movie star beauty looks for her autumn/winter 2018 fashion show was incredible! This 'Temperley Trailblazer' catwalk was radical for me on so many levels: from the sequin-sprayed dresses that make you dream, to the fresh-faced, glowing make-up. When the worlds of beauty and fashion collide it's always a magical celebration! I gave models' skin a megawatt, super-starlit glow, eyes a sultry metallic bronze and lips either a brilliantly bold matte orange-red or a fresh balmy nude."

Balenciaga autumn/winter 2018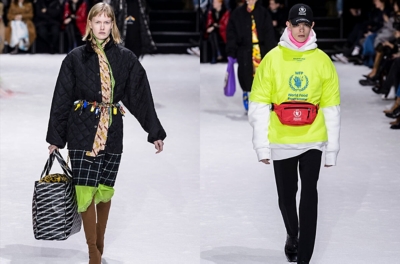 As remembered by:
Harriet Quick, Vogue contributing editor
"Against the backdrop of a giant graffitied snow mountain, based on the folk art work by Leonard Knight called 'Salvation Mountain' in California, Demna Gvasalia sent out his monumental autumn/winter 2018 collection. He explored giant volumes, with coats created out of eight layers of contrasting fabric compressed together, alongside mini cocktail dresses cut from velvet techno fabric that held a perfect silhouette in motion. There were so many ideas pushed to the extreme; it was thrilling yet wearable and echoed Cristobal Balenciaga's obsession with precise architectural volumes. At the same time, the image of boys and girls on an expedition touched on migrant culture and the dream of transcendence."