Your new-season denim wardrobe, sorted
T-shirt and same-old jeans on repeat? Yep, us too. So we asked denim devotee and Insta-favourite Kelly Harrington to show us how to break out of our denim rut, with her favourite styles and must-try trends of the season.
Kelly, a fashion designer and trend forecaster, has a passion for all things blue (Japanese indigo and denim, in particular). Her Instagram account (@kellouhar) is an homage to her favourite hue, with snapshots of her enviable denim wardrobe, artfully curated fabrics (denim, of course) and dreamy azure landscapes.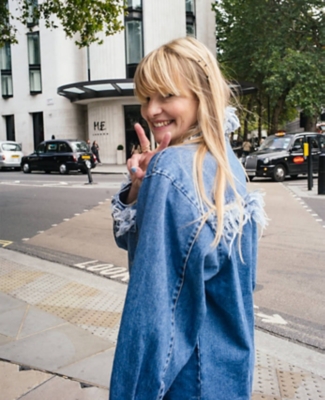 "Denim tells a story about the wearer, and most of all, it's completely timeless; anyone can wear denim, no matter your age, style, gender."
– Kelly Harrington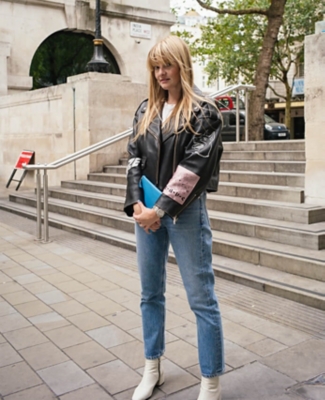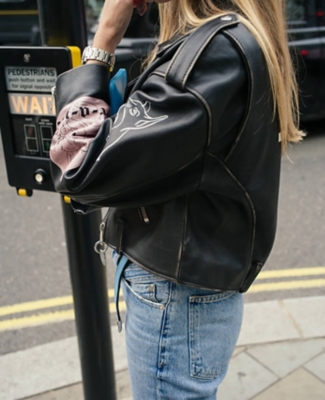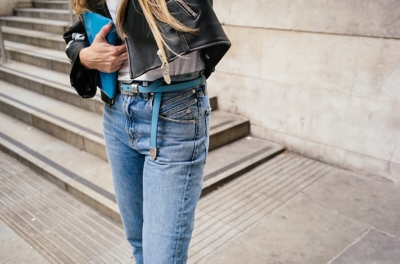 1. Get on the straight and narrow

"This vintage-inspired style is straight in the leg and made of core non-stretch denim. Look for a high-rise waist for a flattering fit."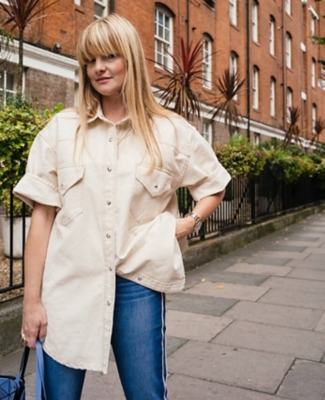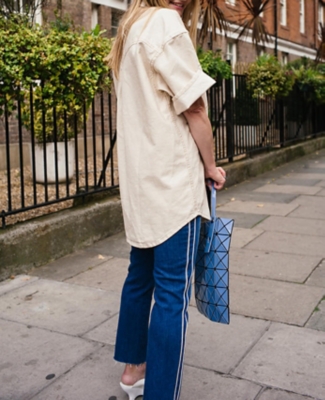 2. Think outside the jeans box
"The trusty denim shirt is your new best friend, and will probably become the most versatile piece of clothing in your wardrobe. Wear with jeans or a skirt, or dip into the Nineties trend and add bike shorts or layer as a 'shacket'. This is the perfect transitioning piece for the new season."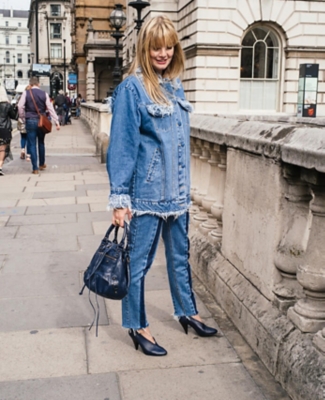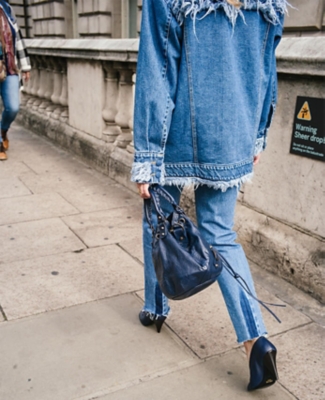 "Reimagined and elevated classic denim with a cut-and-paste aesthetic is surprisingly easy to wear. Pair with classic accessories for everyday."
Kelly's top tips for buying jeans online

1. Know your waist and hip measurements and use the online size chart as a guide.

2. Measure a pair of your favourite jeans that you already own and use them as a size comparison.
3. Familiarise yourself with styles that you know already suit you.
4. Everyone has their own unique body shape, and all denim brands fit people in different ways. Spend a day trying on different brands in a shop to get to know what you like.
5. Order two sizes and return whatever doesn't fit.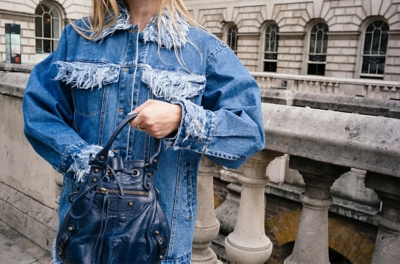 DIY denim at Selfridges London
"I am very sentimental about my clothing as I love my clothes to tell a story," says Kelly. "I like to personalise my jeans; I might crop, paint, play with the silhouette or patch them."
Kelly will be in heaven at our new denim personalisation concept – Atelier Notify – now open in the Denim Studio on 3 at Selfridges London. The on-site customisation service allows you to create the jeans of your dreams; choose from initial or word embroidery, laser printing, hand painting, adding patches, bespoke hem or fraying treatment, or all of the above. Infinite possibilities await…