Time to layer up: the Selfridges guide to totally great coats
It looks like coats are back on the agenda now, folks. But how do we get to grips with a bundled-up, chunkier silhouette again? How do we navigate the Tube with a super-sized puffer? And why do we feel all nostalgic in a giant teddy coat? Well, read on – we've got the ultimate guide to autumn/winter 2018 coats right here.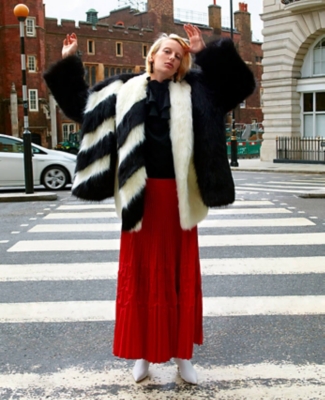 At Selfridges we have traffic-stopping coats a-plenty, but the one we've all got sitting pretty on the top of our wish list is this mammoth faux-fur number by of-the-moment brand Off-White c/o Virgil Abloh. This is a coat you don't just walk out of the house in – you swagger. "Studies have shown that wearing a suit makes one feel powerful, and bulking up for winter does so as well," says fashion psychologist Dawnn Karen. "Coats [like these] make one feel invincible, impenetrable…and mighty." Hear, hear.
See more power coats, right here: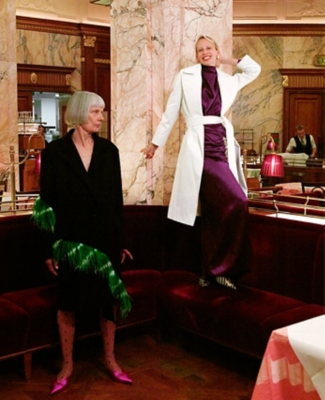 What do you do when you've got a particularly slinky outfit, but your everyday coat (as great as it may be) just doesn't quite cut it? Answer: invest in a brilliant, made-for-fancy-nights evening coat. A modern-day wardrobe saviour, this type of coat is perfect for teaming with your slightly dressier outfits because it's just as (if not more) fabulous as the dress you've got on underneath it. Warning: with a coat like this, you may end up not wanting to take it off.

More coats you won't want to take off: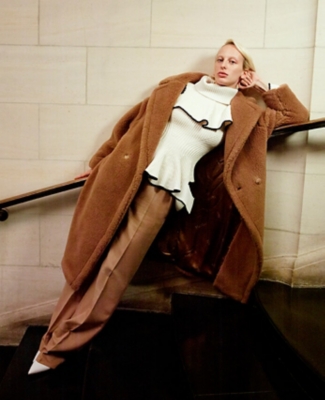 We're rather enjoying fashion's ongoing love affair with tactile textures and super-sized shapes, but why do we experience such a deep-rooted desire to wrap up in extra-large coats come winter? According to Judith Achumba-Wollenstein, co-founder of fashion psychology magazine Hajinsky: "It could stem from memories of proudly wearing your older sibling's hand-me-down jacket even though it was two sizes too big, or an ex-boyfriend's bulky jacket hanging in your closet that you can't seem to part with." Giant in stature and fuzzy in texture, the over-sized teddy coat is our go-to for ramping up the style nostalgia – plus, when the weather gets frosty, it's basically like wrapping up in your favourite blanket.

Find your favourite teddy bear cover-up: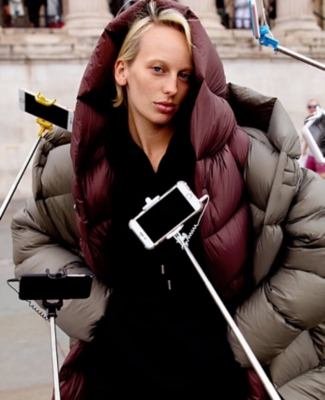 Using clothes for 'protection' – an urban armour, whether you're pounding the streets or just battling the elements – is big news this season. Shows such as Balenciaga, Maison Margiela and Marni took it to the extreme, layering a polo with a coat over a jacket, and a puffer (and then another one). But the idea of layering up under a puffer such as this one by Rick Owens is actually totally practical – especially when navigating a crowded, stuffy Tube or bus. Simply layer over a cotton top and denim jacket and then peel off the layers when necessary. Repeat after us: one coat good, two coats better.

We say, pump up the volume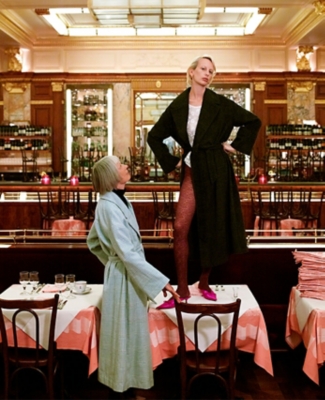 Keeping up with tradition
Let's ease ourselves into the whole buying-and-wearing-a-coat-again thing with a classic cover-up, shall we? After all, there's really no wrong way to wear this type of coat, and this particular belted version (designed in pale blue and a so-now check) by Ganni is just the ticket. Not only does it feel lightweight to wear (great for transitioning into winter), it's also endlessly versatile and lasts right through to mid spring. Talk about getting more bang for your buck.
Because you can't beat a classic…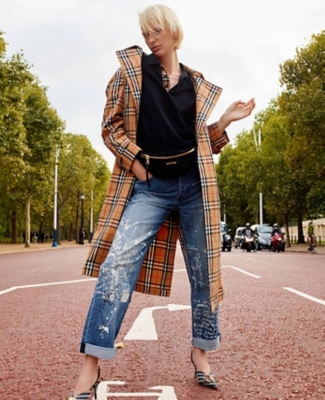 It wouldn't be a proper British coat guide if we didn't include the trench coat somewhere. And we're hard-pressed to find a better trans-seasonal outerwear option than a decked-out trench coat (first invented in the UK, in case you didn't already know) – and bonus points to Burberry for making them so much fun to wear. "In an age when sustainably conscious shopping is ever more important, a statement piece that improves with age is a must-have on your autumn/winter 2018 check list," says Lucy Seward, from the Selfridges Womenswear buying team.

All hail the return of the mac…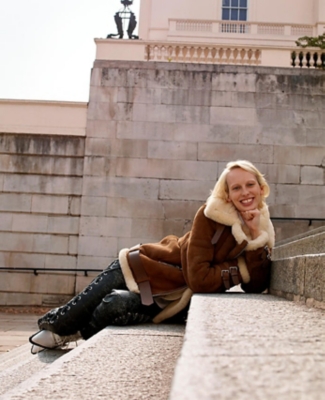 The shearling aviator has been a must-have ever since it was first spotted on the catwalks in 2010. Why? Part Top Gun, part Del Boy (what's not to love?), it's the cold-weather equivalent of throwing a parka over a floaty dress; plus, it gets better with age. And we're going to wager that this tan shearling number by Acne will be the one this year. "When wearing an outstanding coat, I always recommend keeping everything else simple," says Alyson Walsh, author of style guide Know Your Style and blogger at 'That's Not My Age'. "What's more, it makes a good starting point for layering and co-ordinates with everything." Sold.

More sure-fire leather and shearling hits: