What does the future of fashion look like? Join Selfridges experts, trend forecasters, fashion pioneers and, yes, our very own in-store psychics, to find out what our wardrobes – and the way we shop – will look like a season, a year or even a decade from now.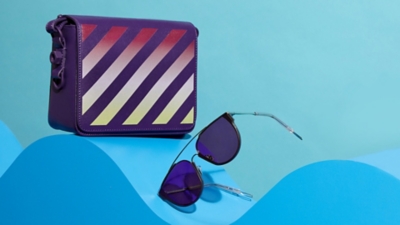 Thinking violet – the colour of the future
Chosen by Pantone (aka the gurus of colour) as the Colour of 2018 – an accolade that often sets the agenda for fashion seasons to come – ultra violet (or Pantone Ultra Violet 2096c, to be exact) symbolises a renewed focus on progressive ideas, including the breaking down of outdated notions around gender and sexuality. Wow, deep.
From exploring new technologies and the greater galaxy, to artistic expression and spiritual reflection, intuitive Ultra Violet lights the way to what is yet to come.

Leatrice Eiseman, Executive Director of the Pantone Colour Institute

A natural segue from fluffy millennial pink, the influence of ultra violet is already emerging in other sectors, not least on screen, where the blending of blue and pink lighting has spawned much social media commentary (and its own hashtag) on the trend for 'bisexual lighting' (see Blade Runner 2049 and Black Mirror for reference).
But what exactly will this mean for our wardrobes? Pinky-blue and violet-tinged accessories and glossy sheens, we predict. And if that's all a bit too cyber, according to trend forecasters WGSN, we'll all be donning mint green come 2020.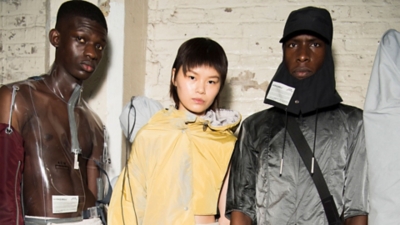 In 2015, when we launched our Agender campaign exploring the concept of genderless design, we predicted a long legacy for a movement that felt much more than a passing fashion trend.
Non-conformist and more extreme fashion is becoming increasingly acceptable, along with gender fluidity and brands that are gender inclusive, rather than specific. The rise and proliferation of streetwear in an office environment is a clear example of this.

Heather Gramston, Womenswear Buying Manager
So which brands are leading the future charge? Selfridges Buying Manager Heather Gramston picks Samuel Ross, the man behind A-Cold-Wall*'s gender-defying streetwear, as one of the most pioneering figures in fashion today, but it's also big hitters such as Prada and Gucci who are joining the surge, by featuring male and female models in the same runway shows as a standard, rather than a one-off. The message, it seems, is clear: only you define you – not your clothes.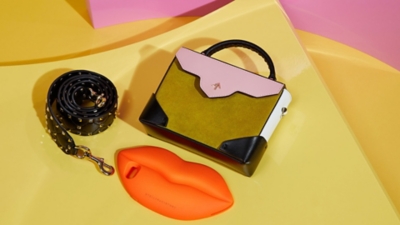 Accessorised for tomorrow
It's official: we no longer want an It-bag, we want a Me-bag. As Christopher Sanderson, Chief Creative Officer at The Future Laboratory (aka the gurus of all things future-facing in retail and design), explains: "We're moving towards a 'me culture' that's based around individuality and individualism, and so businesses and brands are allowing their products to become 'individualised'."
This can be seen in the increase of innovative new personalisation services – from the 'Pimp Your Phone' concept by Anya Hindmarch (our phone has never looked so cute) to the increasing prevalence of interchangeable bag straps and bag charms.
We have really seen accessories become smaller in size, which is clearly the effect of our phones now combining so many things in our lives. Your phone is now your diary, document folder, address book, notebook, calendar and more – all in one place.

Sarah Cartwright, Selfridges Designer Accessories Buyer
With bags shrinking in size and mobile phone cases becoming ever-more covetable, might the designer phone case become the ultimate accessory of the future? If China is anything to go by, then, yes, where doing almost everything with your mobile phone is simply the way of life. As Executive Curator of Shanghai Fashion Weekend, Joyce Du, tells us, "I only need my phone and door key when I go out in Shanghai, no kidding."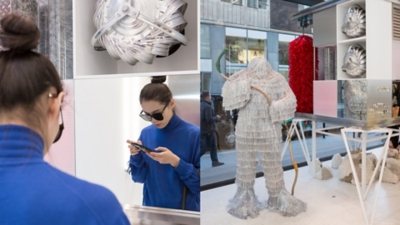 In a world where almost everything can be streamed, searched for, bought or sold through your phone, what's the reason for heading into an actual shop? Well, as much as we love shopping the new-season collections from the comfort of our bed, there will always be something special about visiting a store – and that 'something' is set to become more and more important. "Any idea that bricks-and-mortar retail is dying is just ridiculous," says The Future Laboratory's Christopher Sanderson, "as human beings we love face to face, we love experience, we love being in the moment."
At Selfridges we've always been proud to offer such unexpected moments – from creating our very own gig venue for last year's Music Matters campaign to our vast multi-sensory exhibition, The Flipside, earlier this year. And right now at Selfridges London you can discover another pioneer of thought-provoking retail that breaks down the boundaries between the physical and the digital, the artistic and the commercial: Korean eyewear brand, Gentle Monster.

Increasingly stores are becoming more 'phygital' – this word we have created – combining the physical and the digital…Gentle Monster do the phygital experience really, really well and that's a brand that I would travel halfway around the world to experience.

Christopher Sanderson, Chief Creative Officer at The Future Laboratory
Gentle Monster Managing Director Gary Bott explains the concept as a "complete physical brand experience", explaining that the amazing, interactive installations create a seamless journey that lets customers "feel something, usually happiness and optimism – like anything is possible."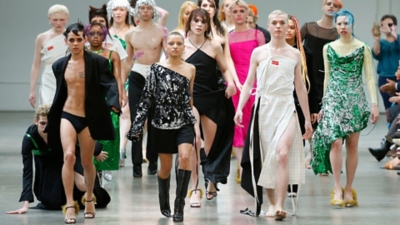 Innovation = collaboration
Is a never-ending schedule of press and runway collections (not to mention pre-collections) really sustainable for one lead designer? And what can the different fields of art, performance and music bring to the world of fashion? It seems that the answer lies in the power of community and collaboration.

We're going through a period where it's not just about the single voice. We are most definitely enjoying a climate where many of us are really appreciating the coming together of ideas – that creativity is something we share.

Christopher Sanderson, Chief Creative Officer at The Future Laboratory
You can see it in Virgil Abloh – the man behind Off-White and now menswear at Louis Vuitton – who has mentored designers behind streetwear brands set for global success (including Heron Preston, A-Cold-Wall* and Ambush) while continually collaborating with DJs, artists and like-minded brands. And how about London's very own Fashion East platform for emerging designers? This not-for-profit initiative has passed on its sense of community to collectives such as the brilliantly anti-authoritarian Rottingdean Bazaar and Art School (not to mention renowned designers including Roksanda, J.W. Anderson and Craig Green). In a fast-paced, global age, design communities seem to be where the innovative spirit finds a home.

The latest from Off-White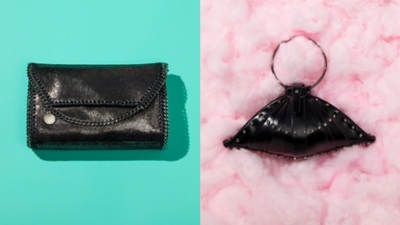 The sustainability revolution
When we think about the future, there's no avoiding concerns about our environment. So how can we make sure that what we wear doesn't damage the future of our planet? Handily for you, we've created our Buying Better / Inspiring Change product edits to help you find more sustainable choices from your favourite brands, with the aim of having 50 per cent of our products better for people and the planet by 2020.
Leather grown in a lab is redefining our understanding of where materials come from and how they are made.

Alex McIntosh, Creative Director at Create Sustain
A key step towards this will be the launch of new Buying Better categories over the next few years, including a Responsible Leather label we'll be launching later this year. This category will focus on accessories and other leather items that are made from leather alternatives (cue Stella McCartney) or leather sourced and manufactured without the use of harmful chemicals.
Alex McIntosh from Create Sustain, a consultancy focused on sustainable business and communications, believes a 'material revolution' is set to transform the industry – and our accessories – for the better. "Leather grown in a lab is redefining our understanding of where materials come from and how they are made, and polyester made from ocean plastics is showing us ways to solve some of our most pressing environmental problems."
So enough of talking shop – what about your own future? Well, we at Selfridges can provide that service too. Our resident in-store psychics, The Psychic Sisters, count various celebrities as clients and provide a remarkable range of experiences (from Tarot readings to palmistry). Founder Jayne Wallace explains the draw: "We help people to explore what they want. It's about guiding people. With what's going on in the world, there are a lot of unsettled feelings out there."
You can book an experience by calling the team on +44 (0)20 7318 3263. And for those that can't make it to London, you can now buy the Psychic Sisters' products here at selfridges.com. Who knows – maybe you might become a future forecaster…