This season's most desirable denim and how to wear it

Oh denim, will we ever get tired of you? Not a chance. From the new brand that's blurring the lines between jeans and sportswear, to the latest street-style looks ripe for re-creating – here's what's new in the world of denim this season…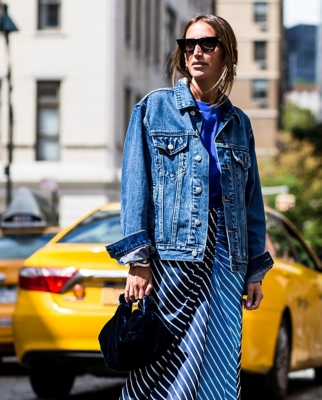 Spring is 'officially' mere days away, which 'unofficially' means it's the beginning of lightweight coat weather. Enter, then, the denim jacket. Beloved by all for its versatility and rough-edged charm, the 90s stalwart is as relevant as ever, with the likes of Balenciaga, Calvin Klein and Off-White all catapulting it to designer staple status. Our top spring tip? Go oversized, and throw on over a lightweight dress or prim midi skirt to add some weight to feminine looks.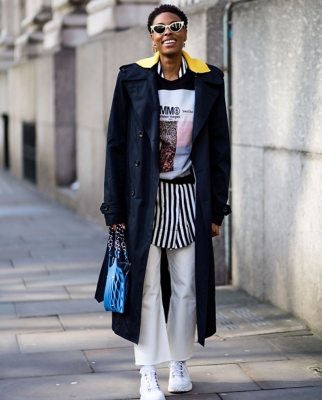 Fresh, chic and optimistic: few styles say 'summer' quite like white denim. So how to work it this season? Look for rigid, zero-stretch jeans – a straight leg or kick-flare hem is ideal – and then pile up the layers (think of the jeans as a blank canvas of sorts). Our advice: use monochrome as your base and then add pops of colour and prints, à la Elle's Donna Wallace. And the finishing touches? Some cat-eye sunnies and a beaming smile.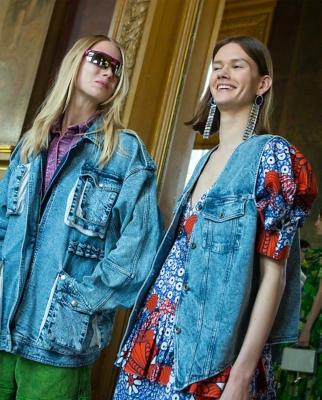 Thought acid-wash denim had been left in the 80s along with scrunchies and Bananarama? Not if Stella McCartney has anything to do with it. Her spring/summer 18 catwalk show featured tailored, boyish trousers, oversized jackets and gilets reimagined in overdyed denim, making us wonder what we've been doing without it all these years. And with scrunchies back in vogue and Bananarama doing a reunion tour, what's next?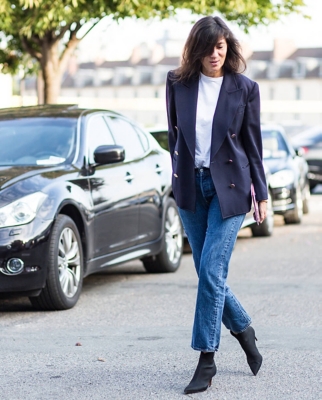 With designers exploring denim from every conceivable creative angle, sometimes all a girl wants is a simple, clean-cut pair of classic jeans. Well, the good news is: straight-legged, original-fit jeans are back. And the ultimate poster girl for this polished look? Editor-in-chief of Vogue Paris Emmanuelle Alt, whose signature look of smart denim, slouchy blazer, crisp-white tee and little black boots never goes out of style.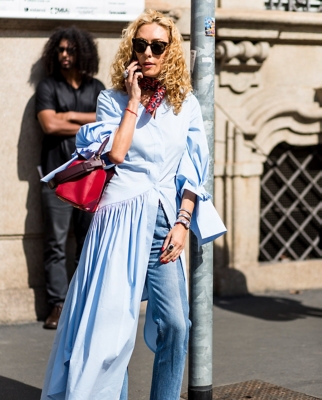 Layering a dress over jeans might be a regular styling trick on the street-style scene, but for many of us it can seem like a tricky trend to master. Well, trust us, all it takes is a few simple tricks and you have an ideal outfit for this erratic spring weather. Just choose a long, lightweight dress (something ankle-skimming, with an asymmetric hem or high slit) and layer over straight-leg jeans (raw edges work best) – et voilà!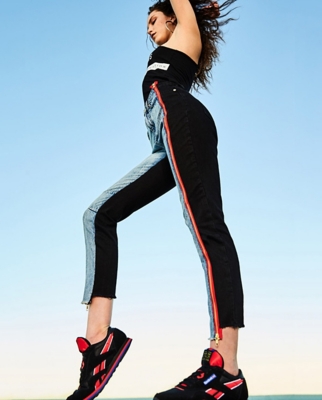 As sportswear continues to infiltrate our everyday wardrobes, it was only a matter of time before our denim got the athleisure treatment too. Cue jeans finished with go-faster stripes from activewear label P.E Nation, which is launching its first denim collection at Selfridges. Co-founder Pip Edwards told us: "P.E Nation is a brand with its roots deeply anchored in streetwear. Claire [the brand's co-founder] and I both share a career in denim design and styling, so it's a natural evolution for us to grow our denim offering – one that complements our mainline activewear and completes that Nineties street-sports look."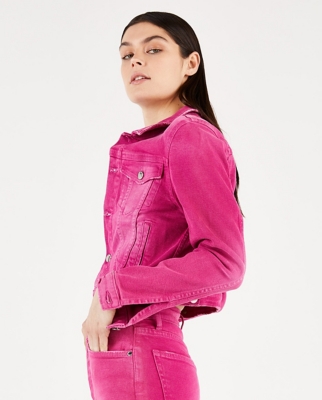 With denim making a play for lead role in your wardrobe, designers have been experimenting with a variety of stand-out dyes. New-to-Selfridges label Cotton Citizen is a case in point. The Los Angeles-based brand uses its own signature denim-influenced dye process to create the richest hues in the business, focusing on a different single shade each season (hint: this season it's fuchsia pink). Wear with the brand's slouchy tees and cropped sweats for a hefty dose of Cali cool.