Do the right thing
by Laura Craik
Is there anything more important than the health of our planet? Laura Craik investigates how smart shopping is possibly the greatest luxury of all.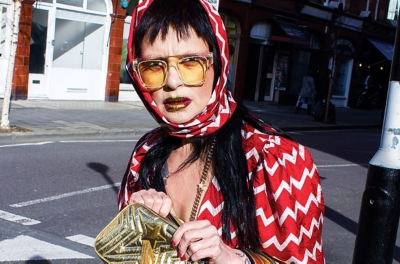 First, let's address the elephant in the room. Here we are, discussing ecological fashion in a magazine published by a bastion of retail. To wander into Selfridges is to be overwhelmed – instantly – with the desire to buy. That's the power of a great department store: it makes you want things you didn't even know you wanted. Which is wonderful, but can it ever be eco?
"Eco fashion can be difficult to define," admits Sebastian Manes, the Buying and Merchandising Director at Selfridges. "We try to approach it in a 'simple' way. We work closely with our brand partners to ensure they comply with our ethical trade requirements and sustainability policies. Then we collaborate with the same brands in order to understand their approach to sustainability. We also partner with those brands to showcase the steps they are taking to act responsibly, and we work very hard to ensure our customers are equipped with as much knowledge as possible."
When it comes to shopping in a way that is kinder to the planet, knowledge is power. And, as the fashion behemoth realises its new and exciting approach to handbag shopping with Radical Luxury, a means of redefining luxury, nobody is suggesting that it's realistic to spend the rest of our lives eking out a miserable existence in the same old clothes, weeping as they creep woefully out of fashion. Between 'buying wantonly' and 'buying seldomly' there's a midpoint: welcome to the brave new world of 'buying mindfully', the sweet spot with which the fashion industry is currently obsessed.
When it comes to shopping in a way that is kinder to the planet, knowledge is power.

We're encouraged to be mindful in all other areas of our lives, so why not with our buying? After all, fashion is the second-most-polluting industry after the oil industry, creating greenhouse emissions of 1.2 billion tonnes per year – larger than that of international flights and shipping combined. It costs the UK economy an estimated £82 billion a year to send clothing and household textiles to landfill. Those clothes you dutifully take to the nearest charity shop? Only 12 per cent of them are actually sold: many end up in Haiti, stacked in giant bales, or are left overflowing in landfills, where most don't biodegrade for several decades. None of this is feelgood stuff. It's the opposite of a new party dress. But things won't change if we don't know how bad they are in the first place.
Even before Blue Planet II became the most-watched TV show of 2017, the fashion industry was waking up to the idea of clothing with a conscience. The earliest pioneer was, of course, Stella McCartney, whose progressive (for the 1970s) upbringing on an organic farm in a vegetarian family ignited a lifelong passion for environmentalism. Since launching her eponymous brand in 2001, McCartney has worked hard to ensure that her supply chains are among the most traceable and sustainable in the fashion industry. As well as refusing to work with fur or leather – the latter almost unheard of in the luxury market – all her cashmere is regenerated, her viscose is sustainably sourced and 53 per cent of her womenswear is made from sustainable materials. In November 2017, she partnered with the Ellen MacArthur Foundation to promote a report on sustainability that found the amount of clothing we buy has doubled in 15 years, yet the number of times an item is worn has fallen by 20 per cent.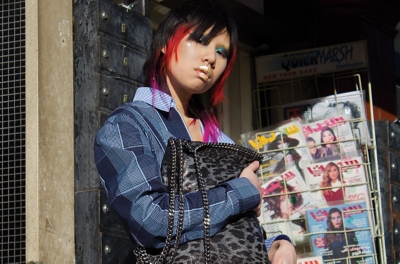 Much of the blame for these saddening statistics must lie with 'fast fashion', and the mindless practice of buying cheap clothing far more often than is necessary, simply because it's cheap. As Livia Firth pointed out in 2015's watershed documentary The True Cost, "They're making us believe we are wealthy because we can buy a lot. I don't want other women to be kept poor just so that I can feel rich."
Just as 2001's Fast Food Nation changed our views on cheap food, The True Cost did much to change our views on cheap clothing. Firth, who co-produced the film, is a passionate advocate of sustainability; her company, Eco Age, has helped hundreds of luxury fashion brands, including Gucci, Chopard and Sergio Rossi, to improve their supply chains. "We need to buy less and buy better," she said at a press conference for The Commonwealth Fashion Exchange, Eco Age's most recent initiative, launched to encourage trade networks and sustainability across different states.
In this respect, never has the argument for luxury fashion been more persuasive. Few people can afford to drape themselves head to toe in designer labels, but most people, when pressed, would admit that if they bought less, they could definitely buy better. Which is more likely to last a lifetime: a high-street handbag or a designer one that has been handcrafted by artisans?
You are far less likely to replace something that cost a lot, or that you had to save for.
Stella McCartney, whose progressive (for the 1970s) upbringing on an organic farm in a vegetarian family ignited a lifelong passion for environmentalism.

With the overwhelming evidence that's all around us, few could deny the effects of climate change on our planet. It's definitely cool to care. Little wonder that an increasing number of young British designers are putting sustainability at the heart of their businesses. Community Clothing, a manufacturing co-operative founded by Patrick Grant, aims to create jobs for skilled workers among Britain's textile communities, while Samantha McCoach's Le Kilt (fans include Garbage's Shirley Manson) works only with ethically sourced wool. The Swedish brand Deadwood uses mainly recycled leather to make its biker jackets and accessories, while the New Zealand brand Maggie Marilyn (fans include Kendall Jenner and Karlie Kloss) works as far as possible with organic cottons and ethically produced silks, with its clothes being manufactured predominantly in Auckland. All of these brands are living examples of this new movement towards Radical Luxury and that, with imagination and commitment, 'slow fashion' can work.
Even designers helming vast brands, where gruelling speed is the norm, are beginning to question whether there might be another way. The show notes at Gucci's presentation in Milan last September had the message: "Resist the mantra of speed that violently leads to losing oneself. Resist the illusion of something new at any cost." Gucci also recently pledged to become 100 per cent fur-free by this spring, joining Giorgio Armani, Calvin Klein, Ralph Lauren, Tommy Hilfiger and Vivienne Westwood.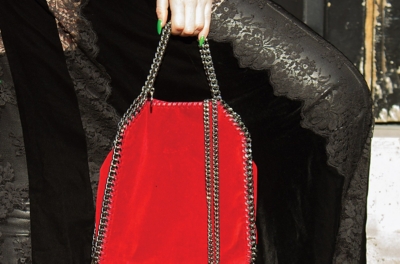 Luxury fashion brands aren't the only ones making changes; even the jewellery industry, so often accused of over-mining silver and gold (not to mention the human impact of its diamond mining), is making inroads to self-improvement. Tiffany & Co was among the first luxury jewellers to tackle the issue of supply chains, and to source its gems and precious metals from mining companies that act responsibly. It has a zero-tolerance policy for diamonds from countries with human-rights abuses, such as Angola and Zimbabwe, as well as a dedicated chief sustainability officer who oversees initiatives for responsible mining and reef conservation. Holly Golightly would be proud. The champagne houses Louis Roederer (which makes Cristal) and Henri Giraud (which makes Selfridges' house champagne) are part of a rapidly growing green movement. Louis Roederer currently operates the largest combined organic and biodynamic estate in the Champagne region, while Henri Giraud stopped using herbicides and insecticides back in 1992, committing to sustainable farming at the same time.
///
A lifelong passion for environmentalism
The travel industry is changing, too, with an increasing number of hotels seeking sustainable ways to improve their green credentials without sacrificing luxury. In Chile, Tierra Atacama is the first hotel in the country to be 100 per cent solar powered during the day; while Treehotel, in Harads, Sweden, was built between live trees, with as little disturbance to the environment as possible (the hotel itself is powered by hydroelectrics). In Austria, the eco hotel Forsthofalm is made of sustainably felled moon wood (that's wood cut during the waning moon, when the sap is at its lowest), uses bio pellets for heating and serves locally sourced organic produce.
Those who claim, with some justification, that luxury and sustainability will never make happy bedfellows should at least be assuaged by the efforts of so many different industries that, diverse as they are, seem united by a common goal. "Of course it's possible for luxury to be ecologically friendly," says Manes, pointing out that Selfridges has been fur-free for 13 years, and even stopped selling single-use plastic water bottles in 2015. "Sustainability is about making responsible choices for the long term. We know our customers really do care about this, which is why we try to empower them to make sustainable choices while maintaining their style. To make progress, we have to do it all together." Wise words. If it takes a village to raise a child, it takes teamwork to save a planet. Together, let's hope we can find a way.
Radical Luxury:
when accessories become art
Explore The Selfridges Poster-zine to discover more thought-provoking articles and captivating images from this extraordinary project.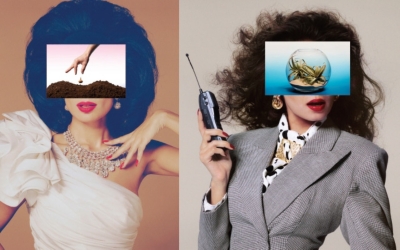 Radical Luxury:
when accessories become art

Explore The Selfridges Poster-zine to discover more thought-provoking articles and captivating images from this extraordinary project.