Tom Dixon on mopping floors at Selfridges, his most iconic design and his new concept space

Since creating his first chairs with a welding torch in the 1980s (following stints as a bass player and nightclub manager), Tom Dixon has become one of Britain's most revered designers. But did you know one of his first jobs was a night-time gig mopping the basement floors of our London store? We caught up with the designer to talk about his expansive new space, back where it all began – at Selfridges London, Oxford Street.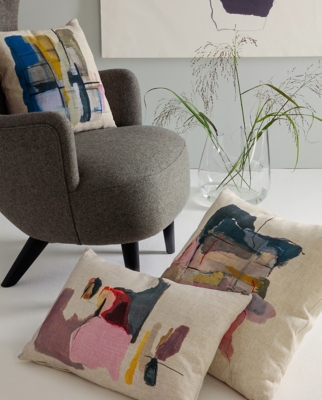 Your new space at Selfridges London has almost tripled in size, with a mix of new and archive designs. Which piece from your archive collection do you consider your most iconic?
"The S-Chair has been an important design that has followed me throughout my career. To start with, in the 1980s, they were handmade by me in my workshop and then they were made in seagrass by weavers from the RNIB (Royal National Institute of Blind People). Eventually, they were produced in Italy by legendary furniture company Cappellini, and the S-Chair is now part of the permanent collections in MOMA New York, as well as at the V&A in London.
The original was created using torn rubber car wheels wrapped around a metal frame with a steering wheel and wok for the base. Now, we have re-engineered it to incorporate the latest developments in pure fusion technology, so the chair is moulded in an industrial hard-soft foam with a pure wool cover. The instantly recognisable serpentine curves are now more comfortable and ergonomically active than ever."
The S-Chair is available to purchase in the new Tom Dixon space on LG at Selfridges London. You can also discover the story behind the iconic design there, with early prototypes of the chair on display.

Moving onto your more recent designs: what are some of your favourite new pieces from the collection?
"This year, we launched a new marble candle set that uses six distinctly coloured marbles with a heavy stone container filled with the scent of fig and coconut. I love materiality, so our products often have a real weight and respect for the raw material.
We have also decided to go a bit softer (after being very metallic and shiny for a while), exploring the construction of cloth and diving deep into the weave, the knits and the knots of textiles, as well as print, embroidery, and the hand-tufting and looping of wool. Working with textiles has allowed us to move at the same fast pace as fashion, rather than the slow-moving pace of furniture."

We have had the pleasure of collaborating with you a number of times over the years – what keeps bringing you back to Selfridges?
"I have had an unbelievably long-standing relationship with Selfridges – at the age of 15, I got a job mopping floors in the basement at night! I only lasted two weeks; it was so physically demanding. Since then, I have been both a consumer and frequent collaborator. Years ago, we worked on a Flash Factory concept, making extruded plastic products for the windows on Oxford Street and taking a massive injection-moulding machine into the stairwell and creating 500 lamps for an in-store giveaway. More recently, we worked on an alternative department store called Multiplex, in the Old Selfridges Hotel behind the store, which was a fabulous adventure. Selfridges has always been an incredible partner as it's at the forefront of retail, product and performance. I look forward to sharing a golden yellow future together."

Visit the new Tom Dixon concept space in Design Living on LG at Selfridges Oxford Street, London.