The Beauty Insider:
five brands you may not have heard of
(but will want to know)
We all love the reassuring familiarity of an iconic beauty brand or signature scent that we can't help but return to time and time again. But how about the thrill of discovering something entirely new and potentially life-changing? (Well, face-changing, at the very least.) We say, take the plunge and broaden your beauty horizons: here's five under-the-radar brands you're going to want to add to your arsenal, pronto.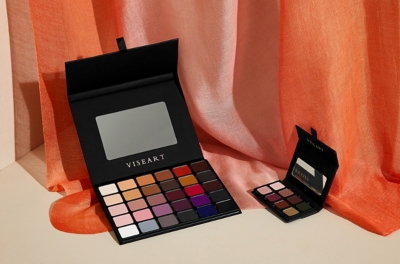 Viseart: palettes that pack serious punch
Who:
Ask any pro make-up artist about their favourite products and they're likely to cite artisanal French beauty brand, Viseart, as one of their secret weapons. Why? Because the mattes are vibrant, the shimmers sport a ton of sparkle and every shade is hyper-pigmented and blendable. "Each palette is created in small, tightly controlled batches to ensure quality and consistency," says our Beauty Buyer Emily Saunders. "Also, many of Viseart's palettes are available in large and mini sizes, if you want to experiment with colour but are afraid to commit to a full palette."
The products to try:
While the Grande Pro Volume 1 palette is our favourite (30 shades, each offering high-performance pigment payoff, plus strong staying power), there are plenty of other products to note, like the Theory palette, a handbag-sized palette of six matte and shimmering eyeshadows, perfect for on-the-go touch-ups.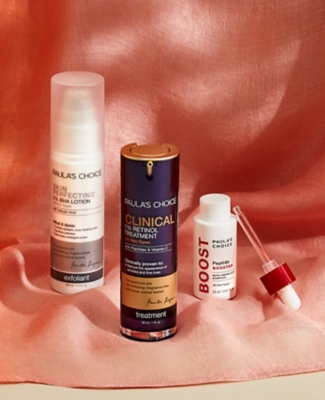 Paula's Choice: skincare that keeps its promise
Who:
You'd be hard-pressed to find a skincare devotee who doesn't stock their bathroom cabinet with Paula's Choice, a Seattle-based skincare brand that puts research and scientifically-proven ingredients at the core of everything they do. "They're unique in the industry, for a number of reasons," says Saunders. "They never test on animals, never include alcohol or any other skin-irritating ingredients; plus the line includes an array of products that cater to all skin types and concerns." Sign us up.
The products to try:
The C15 Super Booster, an antioxidant serum that uses 15 per cent pure vitamin C to up the glow factor in dull skin, and the Skin Perfecting 2% BHA Liquid Exfoliant, which uses salicylic acid to help smooth lines, hydrate and brighten the skin.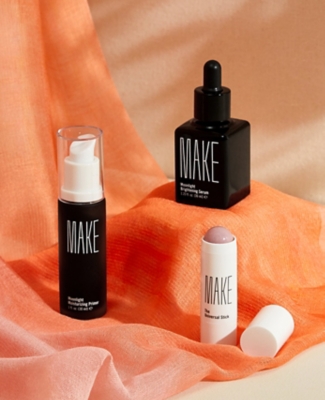 MAKE: encouraging self-expression
Who:
With professional-quality products and a unique range of colours and textures, New York-based MAKE is as appealing for make-up pros as it is for beginners. All its products are paraben-free, fragrance-free and vegan, and they put major emphasis on encouraging creative self-expression. Its mission statement: "It isn't about artistry. It's about being artful. Learning to express yourself in a way that feels authentic and that makes you feel good."
The products to try:
The line has many heavy hitters (including contouring sticks, illuminating palettes and high-pigment matte lipsticks) but the real star is the Moonlight Primer, a silicone-free hydrating gel-cream that moisturises, primes and preps the skin, all while acting as a shield from High Energy Visible (HEV) light and Infared (IR) – the pesky light emitted from electronics like your tablet or laptop.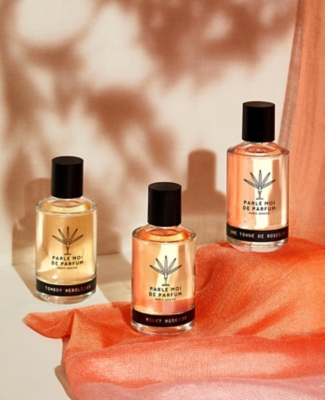 Parle Moi de Parfum: scents that will make you smell like no one else
Who:
We love the perfume classics as much as anybody. Life without Chanel No. 5 or Dior J'Adore? No, thank you. But if you ask us, there's nothing quite like the thrill of discovering a scent that is new – and niche – and one that not everyone else is wearing. Step forward: French fragrance brand Parle Moi de Parfum. A limited collection of just 10 scents (all of which are exclusive to Selfridges), each fragrance is created using some of the highest quality ingredients, and not one is geared toward a particular gender.
The products to try:
"I've been repeatedly sniffing and applying Milky Musk," says our Fragrance Buyer Adella Family. "It's a dreamy concoction with musk and sandalwood at the heart."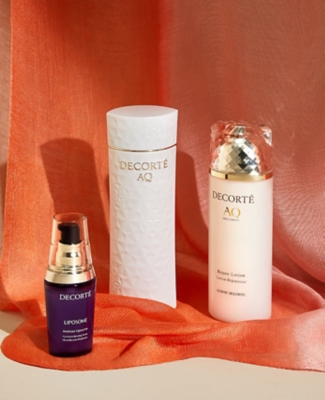 Decorté: J-beauty's best-kept secret
Who:
When you've found a fan in Kate Moss (yep, Kate heralds Decorté as her ultimate go-to skincare label), it's safe to say it's a brand you need to know. Founded in 1970, it's the label's vitamin-rich infusions and attention to the latest in anti-ageing ingredients and technology that have made it a ubiquitous line throughout its native Japan – and a must for anyone wanting to get serious about skincare.
The products to try:
Standouts include the Moisture Liposome, a hydrating serum that quenches dehydrated skin almost instantly; the Meliority Repair Cleansing Cream, an intensive treatment packed with a powerhouse of over 30 active ingredients, and the AQ Lotion, providing a much-needed hit of hydration to dull, lacklustre skin.